John Hattie is back home in New Zealand and has delivered a great and motivating speech at the Festival of Education.
The Festival took place in March 2014 and was supported by Cognition Education and the Ministry of Education. For educators it was a great opportunity to freely access world class speakers such as OECD's Andreas Schleicher, DesignShare's Christian Long and OISE's former dean Michael Fullan from Canada as they shared their expertise on global trends in education. The Festival of Education with symposiums, chat room discussions, performances, exhibitions and showcases attracted over 30,000 people during five days in Wellington, Christchurch and Auckland.
At the end of his keynote John Hattie concludes: "We can make a dramatic difference if we look at the success around us. It's not out there, it's already here! … Let's stop the politics of distraction! … It's the celebration of success that's already here. It's creating a dialogue in that community that we have world class teachers and schools in this country, not all of them but of incredible proportion, and how to privilege that. I hope you join that narrative!"
And that's true not only for New Zealand but certainly for many other countries in the world. Enjoy the John Hattie video and look for success in the schools around you!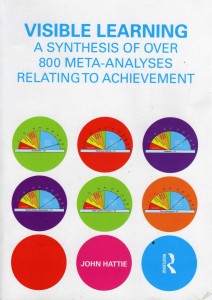 If you want to learn more about John Hattie's research you can find all the data and the underlying story in his books "Visible Learning" and "Visible Learning for Teachers".
Read John Hattie's book about what works best for learning in schools. You can order "Visible Learning" on Amazon.com orAmazon.co.uk.
Read John Hattie's handbook for teachers! You can buy "Visible Learning for Teachers" on Amazon.com or Amazon.co.uk.