Das Internationale Handbuch für Lernerfolg in der Schule (Originaltitel: International Guide to Student Achievement) von John Hattie and Eric M. Anderman untersucht die Haupteinflussgrößen für schulischen Lernerfolg und stellt diese in einer Art Kompendium zusammen. John Hattie und Eric M. Anderman haben dazu eine Gruppe von rund 250 Bildungsforschern gebeten, kurze, faktenbasierte Beiträge zu verfassen um die Fragen "Was wirkt?" und "Was wirkt am besten?" beim Lernen in der Schule auf den Grund zu gehen. Herausgekommen ist ein herausragendes Buch.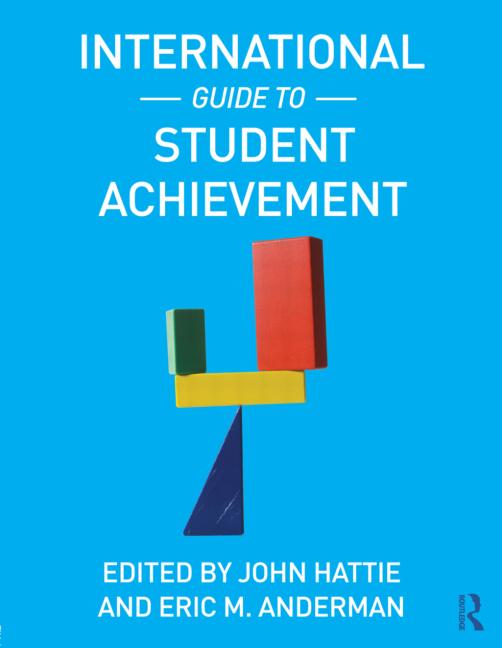 Die Autoren untersuchen Lernerfolg in einer ganzen Bandbreite von Themen und Bereichen. Sie versuchen dabei jedoch nicht, Lehrern Ratschläge zu geben, was diese in ihrem Unterricht tun sollten, sondern fassen in einer Art Kompendium den gegenwärtigen internationalen Forschungsstand zu den bislang bekannten Haupteinflussgrößen für schulisches Lernen zusammen. Lehrer, Schulleitungen und Schulverwaltung können auf diese Zusammenstellung der Forschungsergebnisse zurückgreifen und diese in ihrem Arbeitsalltag weiterverarbeiten und beispielsweise darauf aufbauend Schul- und Unterrichtsentwicklung zu betreiben. Mehr als 150 Artikel dienen dabei als schnelle und leicht lesbare Referenz.
Alle Kapitel sind kurz und knapp gehalten und folgen einem einheitlichen Format, was sehr zur Lesbarkeit und Nutzbarkeit des Buches beiträgt. Leser können daher recht einfach unterschiedliche Einflussgrößen oder Handlungsfelder miteinander vergleichen, entsprechend  auswählen und die Erkenntnisse in der eigenen Schule, im eigenen Unterricht, in Curricula oder in der Lehrerausbildung anwenden.
Auszug aus dem Buch als PDF-Vorschau ansehen: Routledge.com
Buch bestellen: Amazon / Bibliothek
Inhaltsübersicht
Einleitung
Von J. Hattie & E. Anderman
1. Lernerfolg verstehen / Understanding Achievement
Bearbeitet von E. Anderman & J. Hattie
1.1 Defining student achievement Thomas R. Guskey
1.2 Academic Achievement: An Elementary School Perspective Alan Bates, Rena Shifflet & Miranda Lin
1.3 Academic Achievement: An Adolescent Perspective R. Trent Haines & Christian E. Mueller
1.4 Adult Education and Achievement M Cecil Smith
1.5 Academic Achievement: A Higher Education Perspective Terrell L. Strayhorn
1.6 Developmental Education for Adults and Academic Achievement Joshua D. Hawley & Shu Chen Chiang
2. Einflussgrößen von Seiten des Schülers / Influences from the Student
Bearbeitet von Mimi Bong (Korea University)
2.1 Entry to School Collette Tayler
2.2 Piagetian Approaches Philip Adey & Michael Shayer
2.3 Entry to Tertiary Education Emer Smyth
2.4 Physical activity Janet Clinton
2.5 Gender influences Judith Gill
2.6 Engagement and Opportunity to Learn Phillip L. Ackerman
2.7 Behavioral Engagement in Learning Jennifer Fredricks
2.8 Goal Setting and Academic Achievement Dominique Morisano & Edwin A. Locke
2.9 Self Reported Grades and GPA Marcus Credé & Nathan R. Kuncel
2.10. Conceptual Change Stella Vosniadou & Panagiotis Tsoumakis
2.11 Social motivation and academic motivation Tim Urdan
2.12 Attitudes and dispositions Robert D. Renaud
2.13 Personality influences Meera Komarraju
2.14 Academic self-concept Herbert W. Marsh & Marjorie Seaton
2.15 Self efficacy Mimi Bong
2.16 Motivation Dale H. Schunk & Carol A. Mullen
2.17 Friendship in school Annemaree Carroll, Stephen Houghton & Sasha Lynn
2.18 Indigenous and Other Minoritized Students Russell Bishop
2.19 Low Academic Success David A. Bergin
2.20 Learning Difficulties in School R. Allan Allday & Mitchell L. Yell
3. Einfluss der Häuslichen Umgebung / Influences from the Home
Bearbeitet von Andrew Martin (University of Sydney)
3.1 Resident and Non-Resident Fathers William Jeynes
3.2 Home Environment Burkhard Gniewosz & Jacquelynne S. Eccles
3.3 Socioeconomic Status and Student Achievement Jeanne Brooks-Gunn & Erin Bamgarner
3.4 Welfare Policies Lisa A. Gennetian & Pamela A. Morris
3.5 Family-School Partnerships and Academic Achievement Andrew J. Martin
3.6 Parent Involvement in Learning Wendy S. Grolnick, Jacquelyn N. Raftery, & Elizabeth S. Flamm
3.7 Maternal Employment and Achievement Rachel G. Lucas-Thompson & Wendy A. Goldberg
3.8 Television and Academic Achievement Andrew J. Martin
4. Einfluss der Schule / Influences from the School
Edited by Catherine Bradshaw (Johns Hopkins University)
4.1 Charter Schools and Academic Achievement Ann Allen
4.2 Ability Grouping Ed Baines
4.3 Evaluating and Improving Student-Teacher Interactions Anne H. Cash & Bridget K. Hamre
4.4 Mixed-grade elementary-school classes and student achievement Linley Cornish
4.5 School-Based Mental Health Erin Dowdy, Matthew P. Quirk, & Jenna K. Chin
4.6 Achievement in Faith-Based Schools L. Mickey Fenzel
4.7 Class size John Hattie 4.8 Financing Schools Eric A. Hanushek
4.9 Influences of School Layout and Design on Student Achievement C. Kenneth Tanner
4.10 Grade Retention Shane R. Jimerson & Jacqueline A. Brown
4.11 Inclusive Education Geoff Lindsay
4.12 School-wide Positive Behavior Interventions and Supports and Academic Achievement Kent Mcintosh, Sophie V. Ty, Robert H. Horner, & George Sugai 4.13 School Connectedness Clea Mcneely
4.14 Teacher Mentoring, Coaching, and Consultation Elise T. Pas & Daniel S. Newman
4.15 The Link between Student Mobility and Academics Bess Rose & Catherine P. Bradshaw
4.16 Service Learning Shelley H. Billig
4.17 Single-Sex Schools and Academic Achievement Shirley L. Yu & Isabel Rodriguez-Hejazi
4.18 Summer School and Student Achievement in the United States Jordan D. Matsudaira
4.19 Within Class Grouping: Arguments, Practices, and Research Evidence Yiping Lou
4.20 Special Education and Academic Achievement Benjamin Zablotsky & Michael S. Rosenberg
4.21 Social and Emotional Learning and Academic Achievement Jessika Zmuda & Catherine P. Bradshaw
4.22 Middle School Transitions Eric M. Anderman
5. Einfluss des Unterrichts / Influences from the classroom
Bearbeitet von Julianne Turner (University of Notre Dame)
5.1 Classroom Instructional Contexts Debra K. Meyer
5.2 Academic Motivation and Achievement in Classrooms Lynley H. Anderman
5.3 Elementary Classroom Management Inge R. Poole & Carolyn M. Evertson
5.4 Emotion and Achievement in the Classroom Thomas Goetz & Nathan C. Hall
5.5 Secondary Classroom Management Anne Gregory & Jennifer R. Jones
5.6 Homework and Academic Achievement Jianzhong Xu
5.7 The Role of Formative Assessment in Student Achievement Aryn C. Karpinski & Jerome V. D'Agostino
5.8 Peer Influences in Elementary School Gary W. Ladd
5.9 Acceleration for all Henry M. Levin & Pilar Soler
5.10 Ability grouping Janet Ward Schofield
5.11 Collaboration in the Classroom Noreen M. Webb
6. Einfluss des Lehrers / Influences from the teacher
Bearbeitet von Anita Woolfolk (Ohio State University)
6.1 Teacher-student relationships Heather A. Davis
6.2 National Board for Professional Teaching Standards Mary E. Dilworth
6.3 Classroom Management and Student Achievement Jerry Freiberg
6.4 Fostering Student Creativity in the Era of High-Stakes Testing Bree Frick
6.5 Nontraditional Teacher Preparation Belinda G. Gimbert
6.6 Quality of Teaching Laura Goe
6.7 Methods for Studying Teacher and Teaching Effectiveness Alexander Gröschner, Tina Seidel & Richard J. Shavelson
6.8 Teachers' Expectations Lee Jussim
6.9 Teacher Enthusiasm and Student Learning Melanie Keller, Knut Neumann & Hans E. Fischer
6.10 Teachers' Cultural and Professional Identities and Student Outcomes Revathy Kumar & Linda Alvarado
6.11 Teacher intelligence: What is it and why do we care? Andrew J Mceachin & Dominic J Brewer
6.12 Pedagogical Content Knowledge Julie Gess-Newsome
6.13 Teacher Beliefs about Teaching and Learning: The Role of Idea-Oriented Pedagogy Richard Prawat
6.14 School Reform Linda Valli & Carla Finkelstein 6.15 Teacher Efficacy John A. Ross
6.16 Teachers' Epistemological Beliefs and Achievement Gregory Schraw, Joanne Brownlee & Lori Olafson
6.17 Teacher Motivation and Student Achievement Outcomes H.M.G. Watt & P.W. Richardson
6.18 The Relation of Teacher Characteristics to Student Achievement Xin Ma
7. Einfluss des Lehrplans / Influences from the curriculum
Bearbeitet von Rayne Sperling (Pennsylvania State University)
7.1 Values Education Programs Terence Lovat
7.2 Activity-Based Learning Strategies Kira J. Carbonneau & Scott C. Marley
7.3 Bilingual Education Programs and Student Achievement Jill Fitzgerald & Jackie Eunjung Relyea-Kim
7.4 Intelligent Tutors—Strategy Types Bonnie J. F. Meyer
7.5 Creativity and Creativity Programs Heather L. Hammond, Lauren E. Skidmore, Amanda Wilcox-Herzog & James C. Kaufman
7.6 Outdoor Education Justin Dillon
7.7 Role of Discussion in Reading Comprehension Ian A. G. Wilkinson & Kathryn Nelson
7.8 The Impact of Calculators on Student Achievement in the K-12 Mathematics Classroom Aimee J. Ellington
7.9 Second Language Vocabulary Yongqi Gu
7.10 Language Teaching Curricula Eli Hinkel
7.11 Measurement of History Achievement in the United States and Europe Mark Smith, Joel Breakstone, Sam Wineburg
7.12 Reading: Phonics Instruction William E. Tunmer & Alison W. Arrow
7.13 Repeated Reading William J. Therrien & Sarah J. Watt
7.14 Reading: Sentence Combining: Grammar Programs Bruce Saddler & Nicole Bak
7.15 Extra-curricular activities in secondary schools Boaz Shulruf & Grace Ying Wang
7.16 Improving Academic Achievement with Social Skills Frank M. Gresham, Michael J. Vance, & Jeffrey Chenier
7.17 Visual Perception Programs Barbara Hanna Wasik, Adrienne N. Villagomez, Sheena Berry & Sandra B. Evarrs
7.18 Reading: Vocabulary Programs Wilson, A., Jesson, R & McNaughton, S.
7.19 Achievement in Adolescent Health Education Megan Sanders, Rashea Hamilton & Eric M. Anderman
7.20 Writing Achievement Mark Torrance & Raquel Fidalgo
7.21 Reading: Comprehension Programs Janice F. Almasi & Barbara Martin Palmer
7.22 Response to Intervention: The Sum is Greater than Its Parts Paul J. Riccomini & Gregory W. Smith
7.23 Successful Mathematics Achievement is Attainable Patti Brosnan, Aaron Schmidlin & Melva R. Grant
8. Einfluss von Lehr- und Lernstrategien / Influences from teaching strategies
Bearbeitet vonChristine Rubie-Davies (University of Auckland)
8.1 Goal Orientation Andrew J. Martin
8.2 Goal Setting and Personal Best Goals Andrew J. Martin
8.3 Keller's Personalized System of Instruction Eric J. Fox
8.4 Concept mapping Joseph D. Novak
8.5 Direct Instruction Gregory Arief D. Liem & Andrew J. Martin
8.6 Reciprocal Teaching Annemarie Palincsar
8.7 Cooperative, Competitive, and Individualistic Learning Environments David W. Johnson & Roger T. Johnson
8.8 Peer tutoring school-age children Dilara Deniz Can & Marika Ginsburg-Block
8.9. Problem solving R. Taconis
8.10 Problem-based learning David Gijbels, Piet Van den Bossche & Sofie Loyens
8.11 The search for the key for individualised instruction Catherine Scott
8.12 Instructional Simulations Jennifer J. Vogel-Walcutt, Naomi Malone & Sae Schatz
8.13 Programmed Instruction Deborah V. Svoboda, Andrea L. Jones, Kimberly van Vulpen, Donna Harrington
8.14 Multimedia Learning Richard E. Mayer
8.15 Technology-supported learning and academic achievement Peter Reimann & Anindito Aditomo
8.16 Feedback Helen Timperley
8.17 Individualized Instruction Hersh C. Waxman, Beverly L. Alford & Danielle B. Brown
8.18 Worked Examples Paul Ayres & John Sweller
8.19 Spaced and Massed practice Dominic A. Simon
8.20 Questioning Scotty D. Craig
8.21 Effects of testing Jaekyung Lee & Young-Sun Lee
8.22 Metacognitive Strategies Linda Baker
8.23 Mentoring Brian Hansford & Lisa Catherine Ehrich
8.24 Teacher Immediacy Ann Bainbridge Frymier
8.25 Teaching Assistants Peter Blatchford & Rob Webster
8.26 Time on Task Tamara van Gog
8.27 Study Skills Dale H. Schunk & Carol A. Mullen
8.28 Matching Style of Learning Steve Higgins
8.29 Two types of perceived control over learning: Perceived Efficacy and Perceived Autonomy Nir Madjar & Avi Assor
8.30 Distance Education Yong Zhao & Jing Lei
8.31 Home School Programs Andrea Clements
8.32 Evidence Based Reading Comprehension Programs for Students with Learning Disabilities H. Lee Swanson & Michael Orosco
9. Einflüsse aus internationaler Sicht / Influences from an international perspective
Bearbeitet von Julian Elliott (Durham University)
9.1 Some challenges to educational achievement in the Russian Federation since the end of the Soviet Union Julian G. Elliott
9.2 Large-scale assessments of achievement in Canada Kadriye Ercikan & Maria Elena Oliveri, Debra Sandilands
9.3 Student Achievement in Israel: The Challenges of Ethnic and Religious Diversity Yariv Feniger
9.4 Academic Achievement in Finland Jennifer Chung & Michael Crossley
9.5 Ghana David Peterson del Mar
9.6 Academic achievement in South Africa Anil Kanjee
9.7 Educational Assessment and Educational Achievement in South America Jorge Manzi & David D. Preiss
9.8 Changing Definitions of Student Learning and Achievement in Post-conflict Nepal Shabnam Koirala-Azad
9.9 A Historical Perspective on Educational And Academic Achievement in Nigeria Charles Okonkwo & Richard Tabulawa
9.10 International Large-Scale Assessment Studies of Student Achievement Petra Stanat & Oliver Lüdtke
9.11 Academic Achievement in Singapore Pak Tee Ng
9.12 Academic achievement in South Korea Jongho Shin
9.13 An Overview of Student Achievement and the Related Factors in Taiwan Jeng Liu
Auszug aus dem Buch als PDF-Vorschau ansehen: Routledge.com
Buch bestellen: Amazon / Bibliothek