"Homework in primary school has an effect of around zero", says Professor John Hattie. But what does really work in education, schools and classrooms around the world? Every week Sarah Montague interviews the people whose ideas are challenging the future of education, like Sugata Mitra, Sir Ken Robinson and the headmaster of Eton College Tony Little. In August John Hattie, Professor of Education at the University of Melbourne, was her guest at BBC Radio 4. You can listen to the whole interview with John Hattie following
this link
(28 mins). Here are some quick takeaways. If you want to read further about what works best in education you can order the books
Visible Learning
and
Visible Learning for Teachers
.
John Hattie about class size
"Well, the first thing is, reducing class size does enhance achievement. However, the magnitude of that effect is tiny. It's about a hundred and fifth out of a hundred and thirty odd different effects out there and it's just one of those enigmas and the only question to ask is why is that effect so small? Because it is small. And the reason, we've found out, that it's so small is because teachers don't change how they teach when they go from a class of thirty to fifteen and perhaps it's not surprising."
John Hattie about public vs private schools
"Here in England, if you take out the prior differences from going to a private school where they tend to get parents who choose, as oppose to them sent to the local school, they tend to get a brighter student, you take that out, there's not much difference. In many places the government school would be better. So, it's kind of ironic, in the last twenty years where we've pushed this notion that parents have choice, so they can choose the school that may not be in the best interest of their student."
 John Hattie about homework
"Homework in primary school has an effect of around zero. In high school it's larger. (…) Which is why we need to get it right. Not why we need to get rid of it. It's one of those lower hanging fruit that we should be looking in our primary schools to say, "Is it really making a difference?" If you try and get rid of homework in primary schools many parents judge the quality of the school by the presence of homework. So, don't get rid of it. Treat the zero as saying, "It's probably not making much of a difference but let's improve it". Certainly I think we get over obsessed with homework. Five to ten minutes has the same effect of one hour to two hours. The worst thing you can do with homework is give kids projects. The best thing you can do is to reinforce something you've already learnt."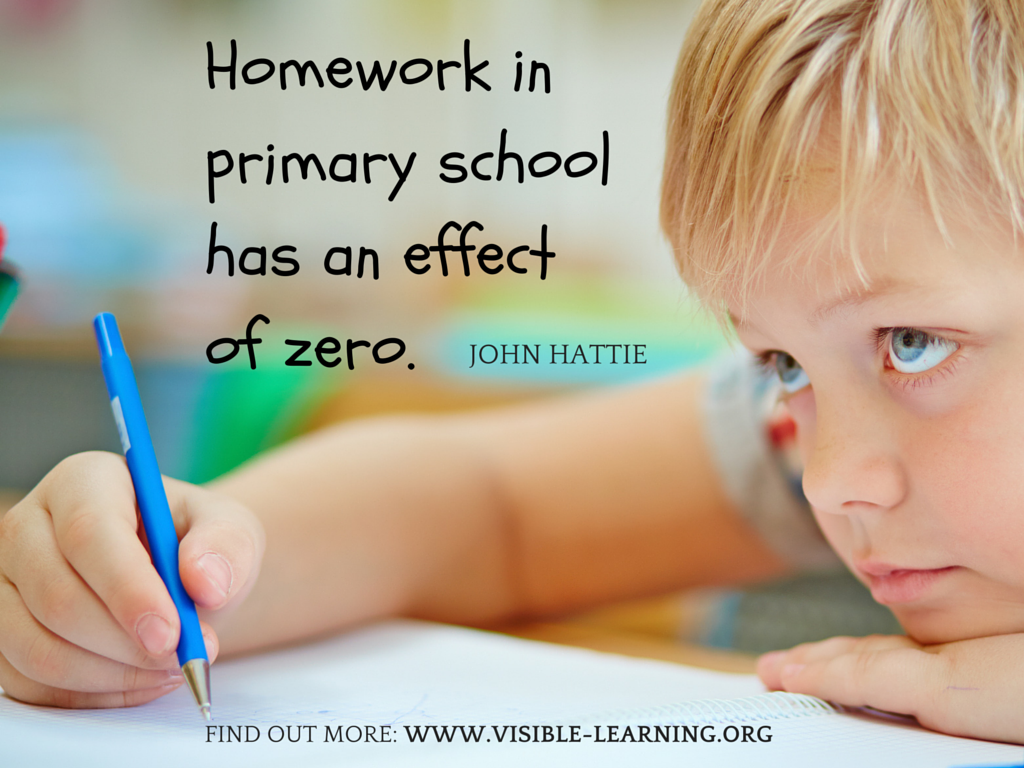 John Hattie about streaming
"It doesn't make a difference."
Sarah Montague: "But bright kids aren't held back by less bright and less bright not suffering?"
"No. No difference at all. No. Teachers think it's easier for them and it may be but in terms of the effects of students, no. Now you've got to remember that a lot of students gain a tremendous amount of their learning from their other students in the class and variability is the way that you get more of that kind of learning from other students."
Listen to the whole interview with John Hattie at
BBC Radio 4
. If you want to read further you can order the books Visible Learning and Visible Learning for Teachers.
BBC Radio 4: The Educators.
Sarah Montague interviews the people
whose ideas are challenging
the future of education.
Episode 2: John Hattie
Duration: 28 minutes
First broadcast: 20 August 2014
Presenter: Sarah Montague
Producer: Joel Moors.